Hawkeye fans surprised by Nebraska welcome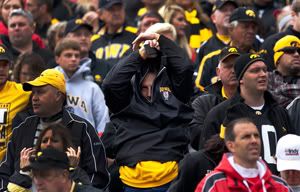 An Iowa fan watches nervously as the Hawkeyes trail 20-0 in the fourth quarter.
Story by Grant Muessel and photos by Jon Augustine, NewsNetNebraska
Nebraska's trip to Penn State featured added security for possible violence. Some thought that same level of security should be taken for the inaugural "Heroes Game" between Nebraska and Iowa.
Memorial Stadium security booted a few obnoxious and intoxicated fans from the game, nothing out of the ordinary. According to security, the majority were Iowa fans.
"They were dumping drinks on fans in front of them, sneaking booze into the stadium," said Stadium security officer Tim Henrichs said.
Many Iowa fans expected more rowdiness, even violence in the budding rivalry. One Iowa fan said he thought the University of Iowa should have addressed it before the game.
"I was expecting to fans be more brutal than they were," Iowa graduate John Foell said. Foell said he was surprised no Nebraska fans he encountered were confrontational.
Nebraska built a 10-0 lead in the first half, eventually winning 20-7. While Foell said Nebraska fans were gracious in winning, the game's outcome affected their behavior.
"Iowa shows up sometimes, today they didn't,' Foell said.
Foell thought if Iowa made it a closer game, the self-proclaimed greatest fans in college football might have a different attitude.
Iowa native Chad Hofmeyer on the other hand, said he wasn't surprised by the reaction of Husker fans toward Hawkeye fans. Hofmeyer said Nebraska fans' ovation for Iowa after the game belittled the Hawkeyes.
"I was expecting pathetic little claps, like 'Go Hawkeyes' from Husker fans," Hofmeyer said. "They lived up to my expectations wholeheartedly.
Hofmeyer said he always expected Husker fans to "act pretentious" by cheering for their opponent after a Husker victory.
Fellow Iowa fan Lisa Minahan said she expected a harsher welcome from Nebraska's fan base too because of past experiences.
"When I come (to Lincoln) I can't wear my Iowa shirt," Minahan said. "People have spit on me and they've thrown cans."
Minahan, a 21-year-old Iowa native attending UNMC, compared Saturday's game to Iowa's rivalry with Iowa State.
"I'll tell you what, there's a hell of a lot more smack-talk in-state," Minahan said.
Husker players had expectations for Iowa as well. According to NU receiver Kenny Bell, Iowa's defensive secondary members talked smack before Nebraska built a comfortable lead.
"Anytime you get a physical defense that plays downhill, you're going to get some attitude," Bell said. "I'm not interested in any of that, I want to play football and move on to the next play."
Bell finished with five receptions for a career-high 94 yards.
After today, Bell said he hopes the Heroes game is competitive every year.
"Anytime you can get a good rivalry, it's fun," Bell said.